How can we trust all those programs we have installed on our PC's, how can we know that they are not connected to the internet and transfering private/secret information anywhere to the internet. Anyway its very interesting which programs are calling home without our knowledge.

Actually every program running on your pc is a potential spy, because if a program is running on a windows system it has rights and possibilities to do everything on your pc, and one thing is to open an internet connection, and transfer data from and to your pc.

Onlineeye can't prevent a program doing that, put it shows you all programs with open connections with their destination address on the internet. That gives you the possibility to stop the program and indentify the spy, cause with the destination adress and Whois you can find the owner of the destination.

Options:

- Show all TCP/UDP connections: Shows not only the established connections, but all non-active connections
- Do not resolve Host name from IP-Address ........ No Name resolution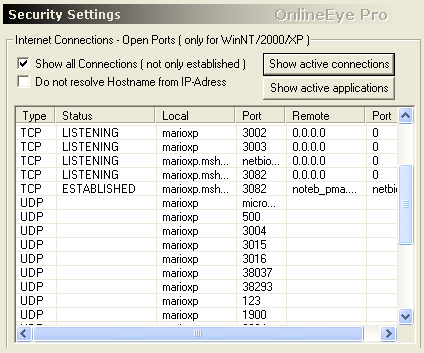 Professional - Tools:

The entire Internet is governed by rules set forth by TCP/IP with other compliant standards. Similarly, the application packages that perform different services to be run on the Internet (email, ftp, remote log-in, etc) build their own protocols on the basis of TCP/IP. Following is a brief list describing of important protocols used by the Internet:
Transmission Control Protocols (TCP) is a connection-oriented protocol that keeps track of data packets (individual units of the message data) for efficient routing through the Internet. TCP takes care of packet sequence in a particular message and puts data packets back in the right order.
Internet Protocols (IP) is a connectionless protocol that actually delivers the message data packets. The combination of TCP and IP establishes a method for transmitting data as well as integrity of data transmission across the Internet.
Simple Mail Transfer Protocol (SMTP) governs the transmission of electronic messages (e-mails) across the Internet. It is used with one of the two other protocols (POP3 or IMAP) to enable users to download messages from a server or save them in a server mailbox.