| | | |
| --- | --- | --- |
| Direct Router and Server monitoring with SNMP | Web | Index |

SNMP-Definition:

The Simple Network Management Protocol(SNMP) is a network management standard widely used in TCP/IP networks and, more recently, in Internet Packet Exchange (IPX) networks.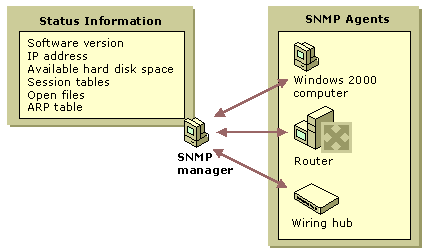 SNMP provides a method of managing network hosts such as workstation or server computers, routers, bridges, and hubs from a centrally-located computer running network management software. SNMP performs management services by using a distributed architecture of management systems and agents

Router monitoring:
The monitored device(s) must be equipped with SNMP, SNMP must be enabled on the device and the machine PRTG must be allowed access to the SNMP interface.
Please check the documentation and settings of your Router/Networkdevice.



If your Router/Networkdevice supports SNMP, the configuration of Onlineeye is a piece of cake:
1) Go to the "Settings" dialog and enable the button Router
2) Open the Router Configuration Window by clicking on Settings
3) Enter the IP-Address or DNS Name of the Router/Networkdevice
4) Press Connect
5) Choose the Interface/Adapter to monitor




Keep in mind that you can monitor only one Interface at the same time, maybe you have to change the sampling rate == Update Time to a higher value, lets say 10 seconds, to get proper results!

Monitor Windows Workstations/Server:

The most common usage is monitoring the bandwidth usage of leased lines, routers and firewalls. But you can also monitor the usage of servers, managed switches or printers.

In order to monitor Windows Servers/Workstations with Onlineeye the SNMP Service has to be started, if this isn't the case you have to install it.
Install the SNMP-Service
1) Open the Windows Components wizard
2) In Components, click Management and Monitoring Tools (but do not select or clear its check box), and then click Details.
3) Select Simple Network Management Protocol check box, and click OK.
4) Click Next.

How to do

To open the Windows Components wizard, click Start, point to Settings, click Control Panel, double-click Add/Remove Programs, and then click Add/Remove Windows Components.

Certain Windows components require configuration before thay can be used. If you installed one or more of these components, but did not configure them, when you click Add/Remove Windows Components, a list of components that need to be configured is displayed. To start the Windows Components wizard, click Components.

You must be logged on as an administrator or a member of the Administrators group in order to complete this procedure. If your computer is connected to a network, network policy settings might also prevent you from completing this procedure.

SNMP starts automatically after installation.







Set the Sample-Rate at least to 10 seconds to get proper results !!!